Our Management Team.....
My flesh and my heart faileth: but God is the strength of my heart, and my portion forever.   Psalm 73:26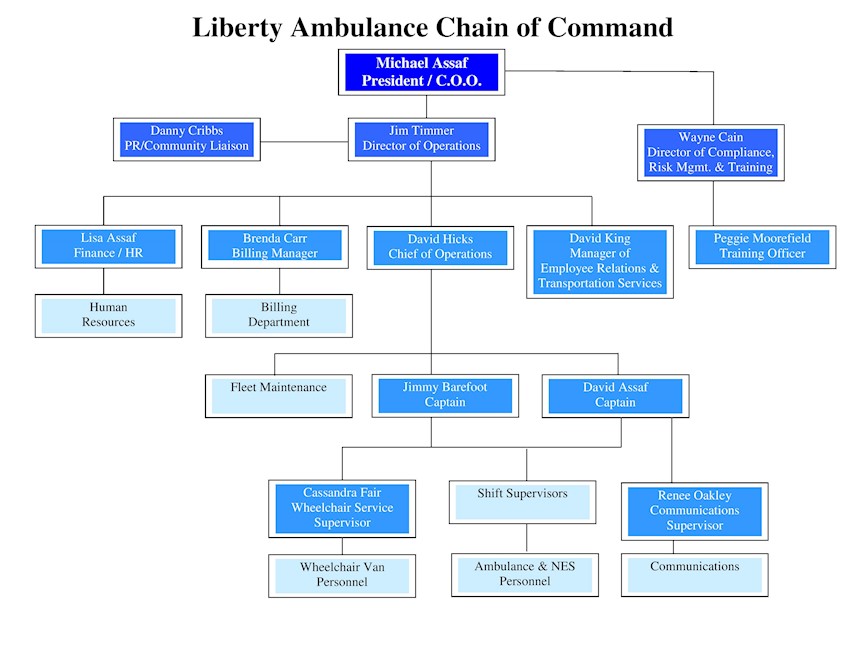 Related Links
Our Officers
MICHAEL ASSAF PMD
President / COO
WAYNE CAIN, CACO
Director of Compliance, Risk Mgmt. & Training
JIM TIMMER
Director of Operations / Quotes

JOHN MILANICK M.D.
Medical Director
DANNY CRIBBS PMD
Public Relations / Contracts
LISA ASSAF EMT
Accounts Payable

BRENDA CARR, CAC
Billing Manager
RENEE OAKLEY 
Communications Supervisor
SARA BARLANTI
 Human Resources
PEGGIE MOOREFIELD PMD
 Training Officer 
DAVID HICKS CC-PMD
Chief Of Operations / Logistics
DAVID KING, EMT 
Mgr. Employee Relations & Transportation Svcs.
JIMMY BAREFOOT CC-PMD
Captain
DAVID ASSAF CC-PMD
Captain

WESLEY ELLISON PMD
Lieutenant

 CASSANDRA FAIR
Lieutenant - Wheelchair Division